VM2 Application Board 3
Full featured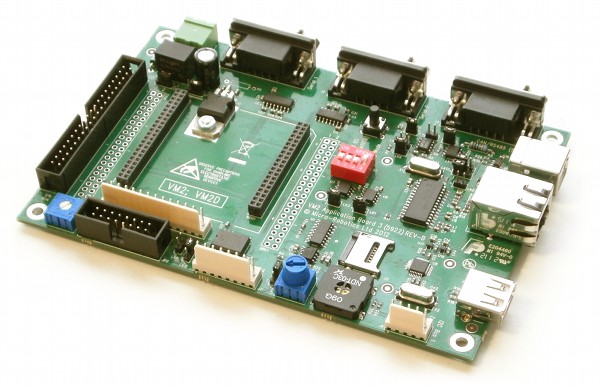 We put as many interfaces on this application board as we could
so you can explore the capabilities of the VM2 controller range:
Touchscreen display interface
(display and adapter
available separately)
Ethernet on RJ45 socket
MicroSD memory card socket for GBytes of fixed storage
USB Host controller for GBytes of removable storage
USB Device, to access VM2's internal Flash File System
2 x RS232 serial ports
RS485 Serial Port (half-duplex)
I2C Bus (3.3V or 5V) – to add more interfaces
CAN Bus
Alphanumeric LCD interface (3.3V or 5V)
Loudspeaker (plays PWM 'beeps' or WAV sounds)
EEPROM for non-volatile application settings or parameters
4 x 4 Matrix Keypad interface, or 8 general purpose digital I/Os
Power supply (Switch Mode: 7.5 – 28 VDC; 12VDC if using display)
Also, every VM2 pin is taken to 0.1″ breakout connectors so you
can connect external circuits.
 Datasheet
Schematic
Product code: 5922

Price
VM2 Application Board 1
Minimal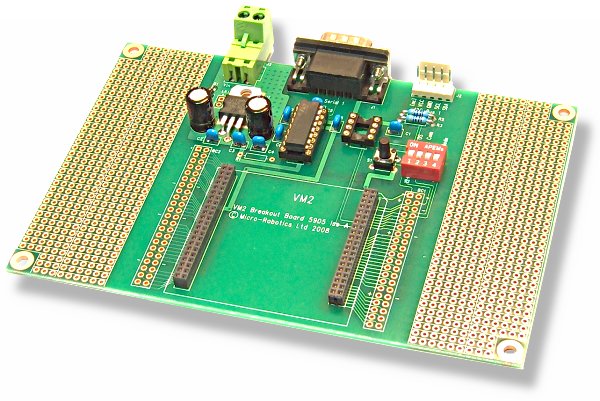 Application Board 1 is also called the Breakout Board because all the VM2 pins are taken to prototyping areas for you to develop your own circuits. To get you started it has power, serial, and I2C interfaces already fitted. These are easily removed or bypassed if you don't want them.
Features:
RS232 level shifters & D9 connector on Serial Port 1
I2C bus – to add more interfaces
Program mode and Reset switches
EEPROM socket
Prototyping Areas
Powered by 5 – 16V DC, typically 50 mA
Regulated 3.3VDC available
 Datasheet
 Schematic
Product code: 5905

Price
What is an Application Board?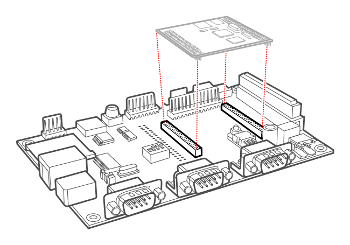 In use, a VM2 controller is normally plugged into an 'application board'. The VM2 provides the CPU functions and the raw logic-level I/O signals; the application board provides interfaces to the system to be controlled.
Often our customers will design their own application board, or have us do it for them. As these are mostly relatively simple circuits the investment in design and production facilities is relatively low.
However it may not make sense for you to develop your own custom application board if you are just prototyping a project or have a small production run, so we offer a range of standard Application Boards.
These Application Boards are compatible with all VM2 controllers, although the VM2L can't drive some of the interfaces on Application Board 3.