VM2 Embedded Controller Family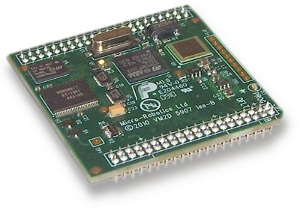 VM2 is a family of industrial microcontrollers developed for use in
Machine automation
Process control
Scientific and medical instruments
Portable and hand-held devices
Automatic test equipment (ATE)
and other embedded controller applications.
The VM2 controller family is backed up by free design and programming tools.
Example Circuit Designs
Programming Tools
Built-in Drivers
Colour Display support
File systems in internal Flash, SRAM, SD cards and USB Flash drives
Internet protocols
Web servers, FTP and email
Analogue and Digital I/O
Audio output
Encryption and Security
Application Boards
The VM2 plugs into the main PCB of your application
to control all your user interface and I/O devices.
Or, if you don't want to develop your own application PCB we
supply a range of products you can plug together to build your application.
Starter Kits
We supply a range of starter kits so you can evaluate the VM2 for your application.
There are two standard units in the VM2 embedded controller family, and variations available on special order. All members of the VM2 family are plug-in and pin-compatible.
VM2 (Standard unit)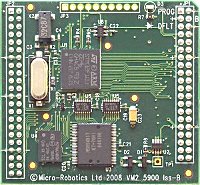 The standard VM2 embedded controller has 1MB of SRAM, 8MB of flash and a rich set of I/O.
Instead of a 'large display' capability it has 20 extra I/O channels. It can drive smaller displays.

Price: VM2
Product code: 5900
VM2-D2 (Adds display driver & more SRAM)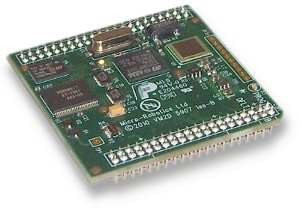 The VM2-D2 adds a driver for large colour displays, e.g. WVGA resolution (800 x 480). It also doubles the SRAM size to 2MB.

Price: VM2-D2
Product code: 5920
VML (For low cost designs)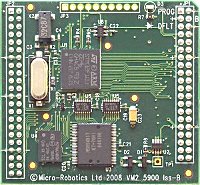 The VM2L is a stripped-down VM2 for low cost designs. Application code size and the SRAM size are 64K Bytes each. Filing systems and graphic displays are not supported.
Not available from stock. Built to order only.

Price: VM2L
Product code: 5901
VM2 Build Options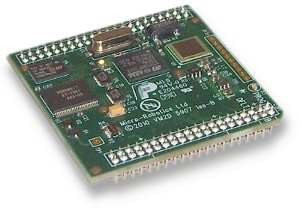 The VM2 and VM2-D2 can be built with up to 8MB SRAM. These are not available ex stock, but can be built to order.
VM2 Backup battery

VM2 uses a standard CR2032 Lithium battery to power the Real time clock and retain some settings while not powered. Not all applications require a battery.


Price: VM2 Battery
Product code: 5903
 VM2 Datasheet
32-bit, 72MHz ARM Cortex-M3 microcontroller (STM32F103)
8MB Flash
1MB SRAM (battery backed)
TFT Display Controller (VM2D)
Realtime Clock/Calendar
Very low power (Typ 63mW)
Boots up in less than 250mS
VM2 is easily connected to
The Internet (via Ethernet or GPRS)
Mobile Phones (SMS text messaging)
Colour displays and touchscreens
Memory Cards
USB (as a USB Flash drive or a USB host)
Loudspeakers
5 COM ports, I2C, CAN and SPI busses
Inputs and Outputs
5 Serial Ports up to 4.5M Baud
2 I2C busses
1 USB port
1 CAN Bus
2 SPI Busses (18MHz)
8 Pulse I/0 Channels
3 Quadrature shaft encoders
19 Analogue inputs (12-bit)
2 Analogue outputs (12-bit)
65+ Digital I/0
External bus to connect Alpha or Graphics LCDs, etc
Power consumption
VM2 peak current consumtion is around 45mA (150mW) – but most applications average around 19mA (63mW). More…
General
Board dimensions 52mm x 48mm
Power supply 3.3V
Watchdog
Indicator LED
Battery holder for optional backup battery
 VM2 Datasheet